Establishing Business Credit
Good business is as important to your business as personal credit is to your personal life.  The process can seem daunting but the CreditDiva can help new and established business open business credit accounts to establish a business credit report.
To get started, please have your:
Secretary of State Entity Filing* (Check with your specific state)
Employer Identification Number (EIN) (Visit IRS.gov)

Employer Identification Numbers are issued for the purpose of tax administration and are not intended for participation in any other activities (e.g., tax lien auction or sales, lotteries, etc.)

Business License(s) if applicable
Business Bank Account
Business Phone Number & Address
411 Listing
Merchant Account*
Existing Business Credit Accounts
Dun & Bradstreet Number 

The D&B D-U-N-S® Number is a unique nine-digit identifier for businesses. It is used to establish a business credit file, which is often referenced by lenders and potential business partners to help predict the reliability and/or financial stability of the company in question. D-U-N-S, which stands for data universal number system, is used to and maintain accurate and timely information on +265M global businesses. (Visit DNB.com)

Paydex Score of 78 & Report* (Available from Dun and Bradstreet or Equifax and Experian Business Credit Reports)

The Paydex score is a system that Dun and Bradstreet instituted by as a measure of credit worthiness for businesses. It is very similar to the FICO credit scoring system that is used to track consumer credit.
Each of the requirements above are steps that should be taken to legitimize your business.  A simple google search can assist you in completing these tasks.  Contact us and we can refer to you to someone who can assist you with completing these tasks for a small fee.
*These items require a fee.
Please gather all these documents and be prepared to upload them and then Sign Up!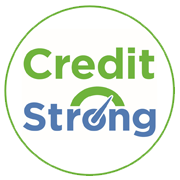 Sign up for a Credit Strong account to help rebuild your credit.  Click Here.